20/04/2015
Receive messages on the diary post.


The artist Gerhard Richter.


The life and work of one of the most versatile and expensive contemporary artists Gerhard Richter says a lot. Today, the artist's work can be found in all major exhibition halls in the world. How about the artist, who was elected a brand new career, spoke after the first exhibition of his work in 1963. Do not fit into the traditional framework of multi-style art of this master remains today. For example, there fotorealist Richter, Richter has - abstractionist, there Richter - Expressionist - with its intense color landscapes. Richter called typical work is not easy. His work - this pop art and conceptualism, minimalism, abstraction, and picturesque.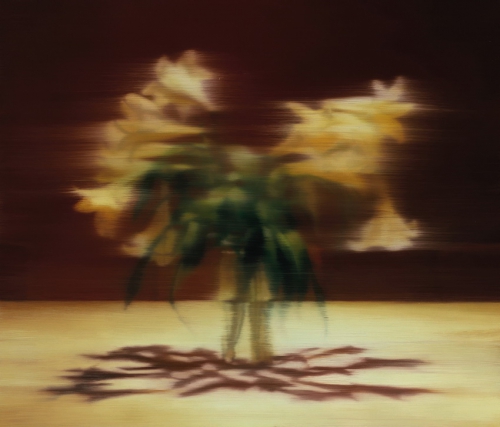 Lilii. 2000, oil on canvas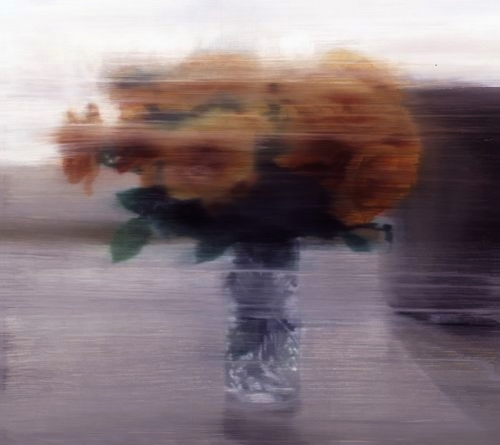 Rozy. 1994, oil on canvas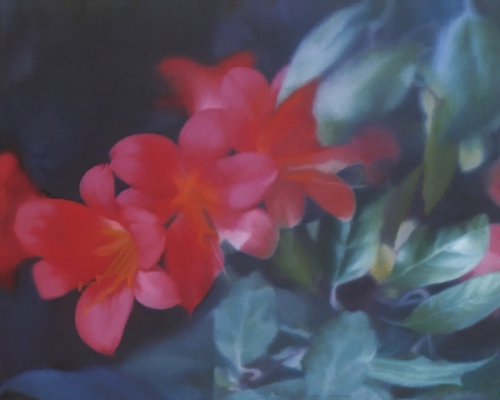 COLORS. 1977, oil on canvas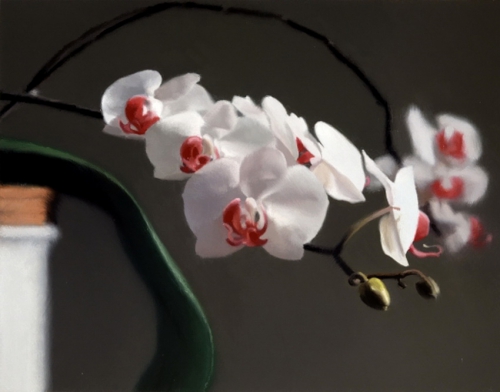 Orhideya. 1997, oil on canvas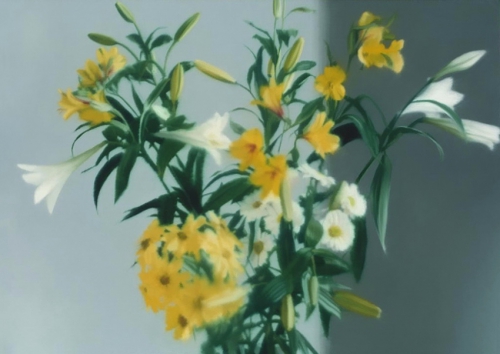 Home and, in fact, the only topic of all images and stylistic solutions used Richter - painting itself. The artist explores its expressive means, referring to this subject at all stages of his work. This combination of opposites and gave rise to doubts in the artist in relation to the whole fairly well-known, once and for all established in the art. Richter understood painting as an active action, search realities of today.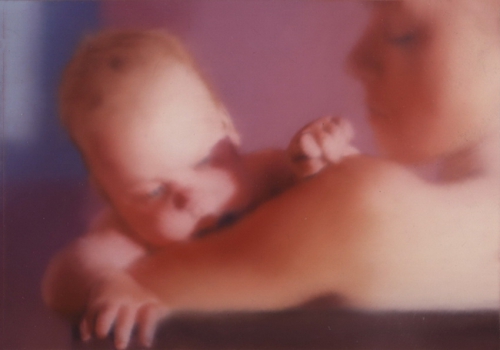 Mat and child. 1995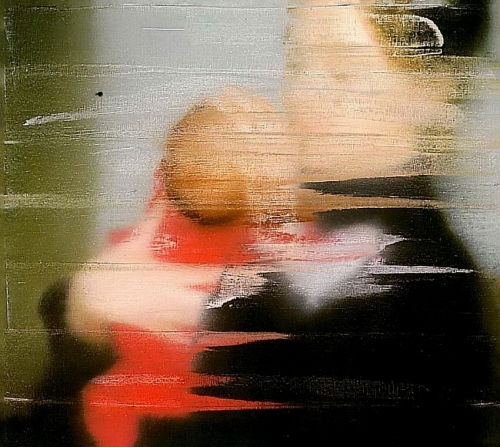 Mat and child. 1995

Gerhard Richter was born in Dresden in 1932. Support from the mother, who advised her son to become an artist when he was a teenager, helped determine the choice of his vocation, and from 1961 to 1964, he received a classical education at the Dresden State Art Academy studying with Karl Otto Gotz. Gerhard Richter has initiated a fruitful dialogue between painting and photography.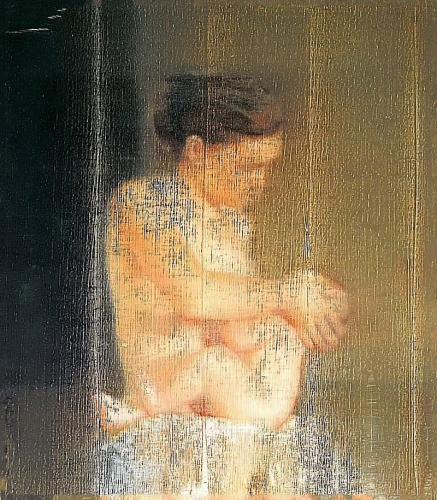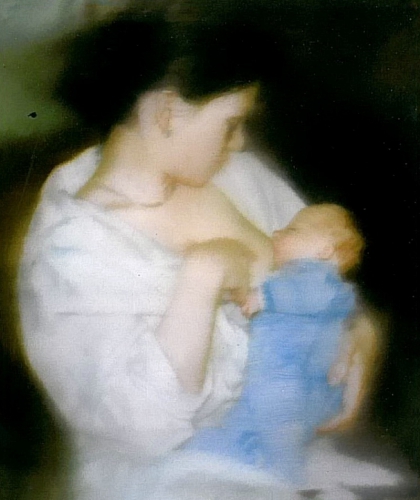 From an interview with the artist: Let's start with an idea in your head about the feeling that you want to create ... in particular in the painting? As you begin to abstract paintings?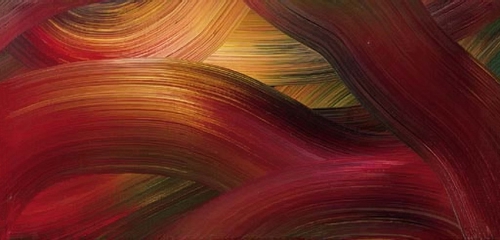 Well, the beginning - it's actually pretty easy, because I still can not be completely free in how I conduct shapes and colors. The picture that pleases during the day and looks very nice, spacious, bright, new, one of the things starting to look cheap and fake. And then the real work begins - alteration, destruction, starting again and so on until it is done, nothing more to want to change.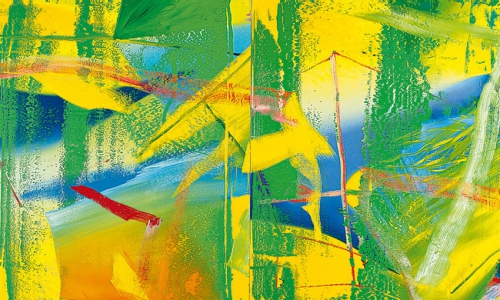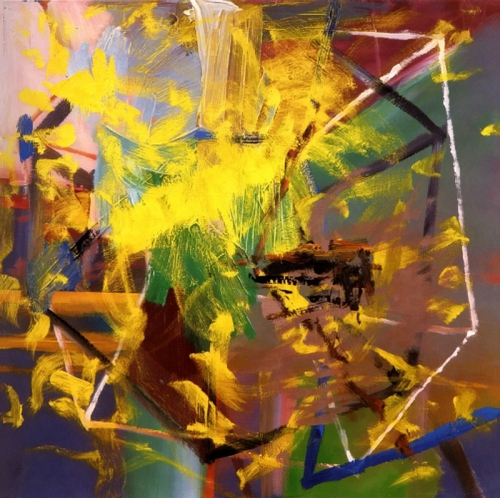 In 1962 Richter began to create work, based on photographs that he found in newspapers and magazines. Deviated from the abstract manner in which he worked before, he had no wish to paint, starting from observations and interpretations, and wanted to find a more direct and objective way of depicting the world. As a result, he turned to photography, which, due to the fact that it is done mechanically, considered "the most perfect picture".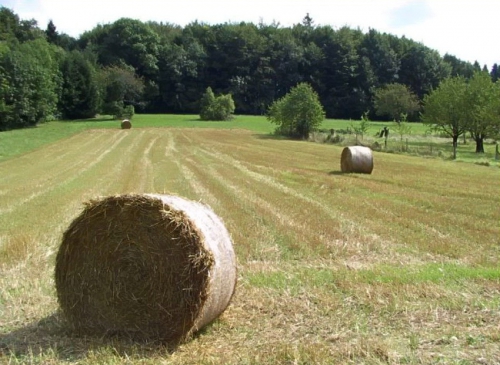 Vizental in southern Baden. Oil on canvas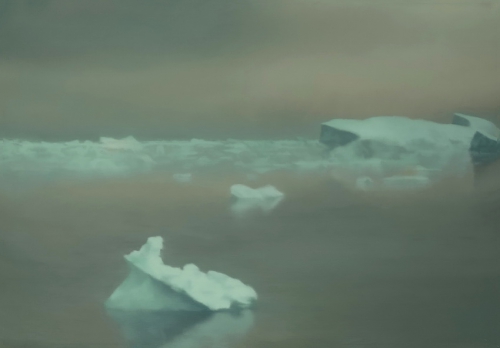 Led. oil on canvas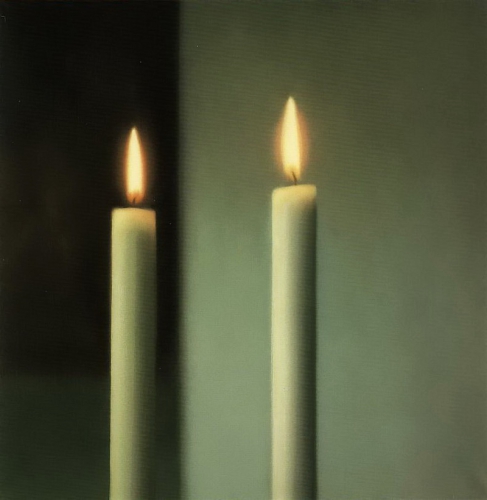 Two candles. 1982, oil on canvas



The heroes of these works Richter became not only recognizable characters, but also by unknown persons. This reflected his unconventional attitude to portraiture: "I think that the artist does not need to see or know their model. Portrait should not express her soul, the essence or character. And the artist does not have to show him some of their own, special perception of the model ... "Thus, in the portraits embodied one of the main ideas of Richter - that reality can not see or know, it remains hidden beneath the outer shell, which displays the author.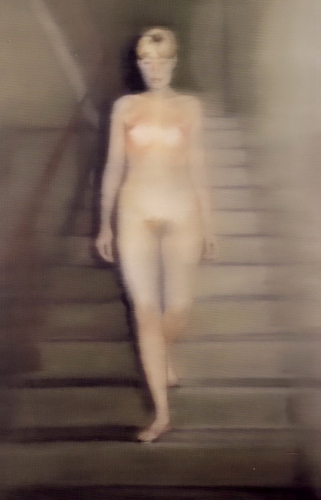 Ema. 1966god, oil on canvas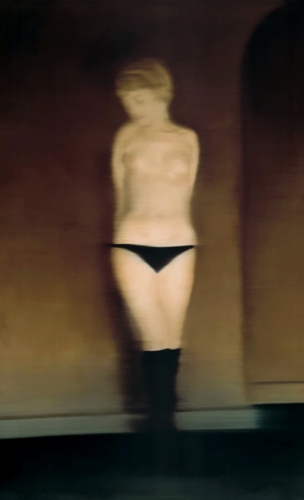 Small Nude. 1967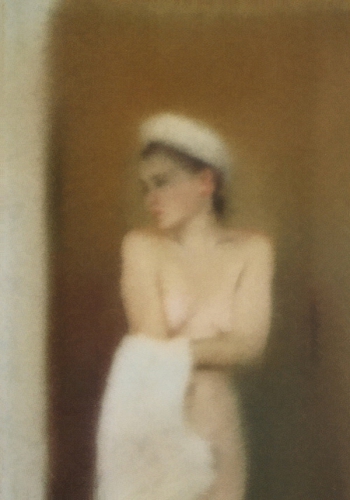 Young bather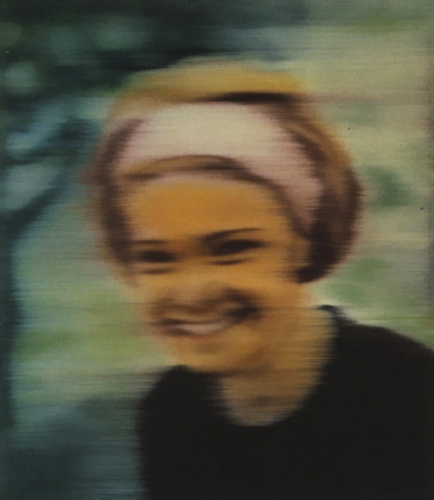 Inga. 1965, oil on canvas



Approximately in 1964, in addition to photographs from newspapers and magazines Richter begins to use pictures from family albums. It is interesting that the resulting picture is very accurately convey the impression of a family snapshot.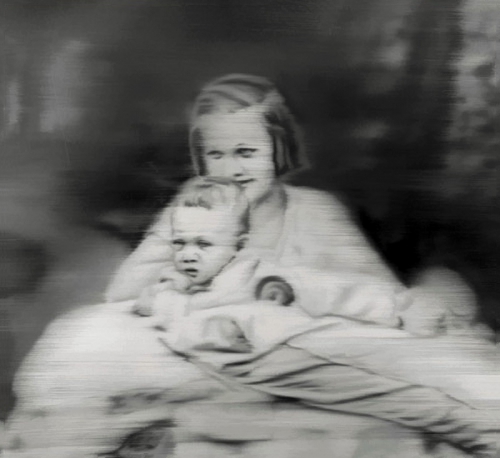 Aunt Marianne. 1965, oil on canvas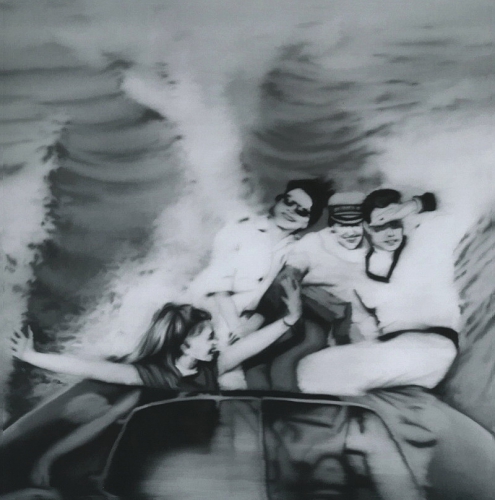 Motornaya boat. 1965, oil on canvas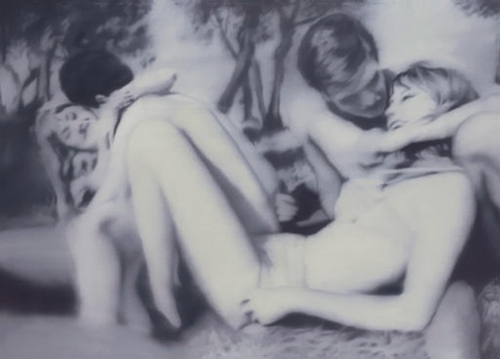 Two pairs. 1966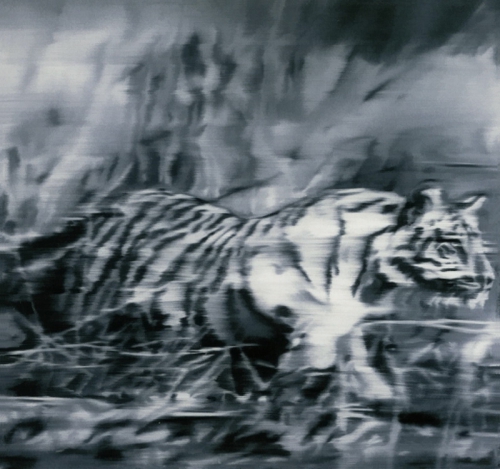 Tigr. 1965, oil on canvas



The viewer all the time it feels as if he is looking at them through the lens of the camera. Richter also uses the device of a blur, blur the image, and thus again alludes to the fact that the picture is just not accurate reflection of reality, we see only the outer shell and the inner essence remain hidden from us. In this way, the author separates the viewer from the constant human desire to find meaning in the exterior of the people and the surroundings and focuses on external puzzle. These portraits convey the eternal human problem: the desire to understand the world and the inability to know anything for sure.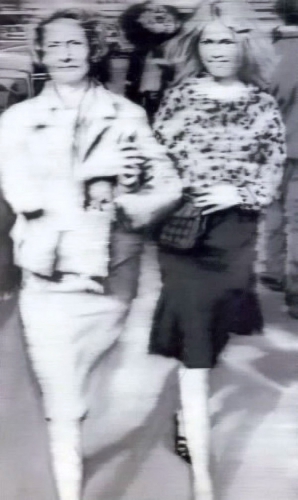 Mother and daughter. 1965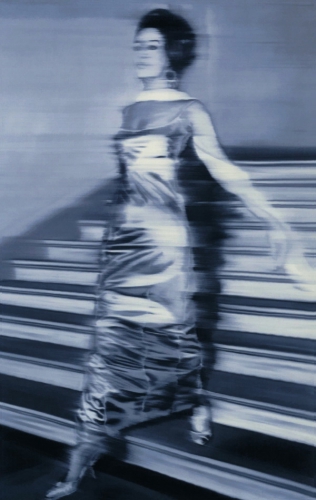 A woman descending the stairs. 1965, oil on canvas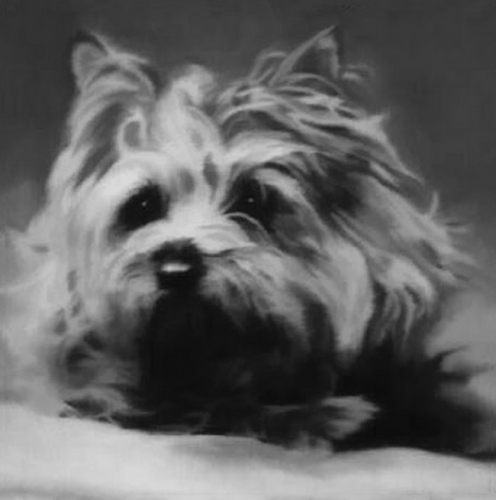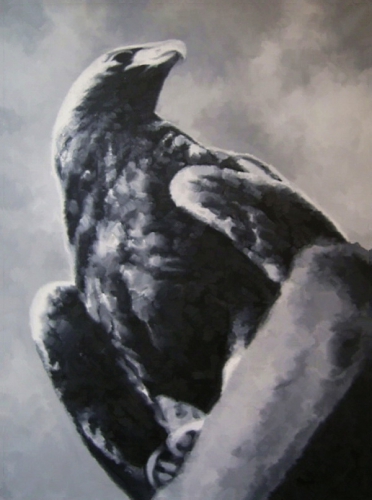 The fact that these images seem to be both extremely ambiguous and mysterious, the author said: "Do you realize that just can not portray reality. What you create is only transmits itself, and therefore is itself a reality."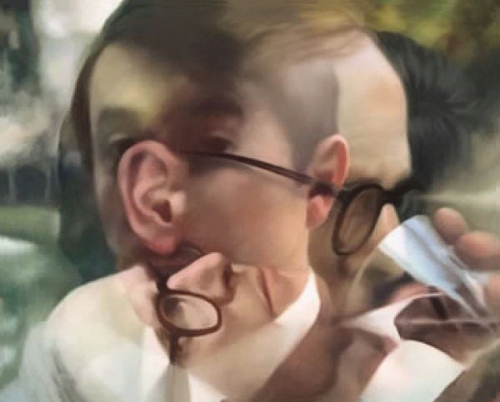 Gilbert & George. 1975, oil on canvas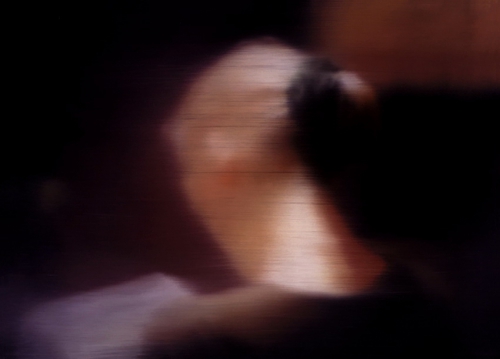 Chitatel.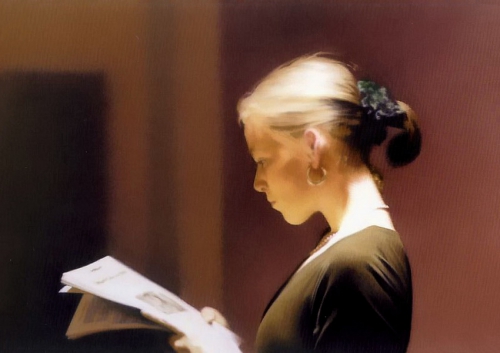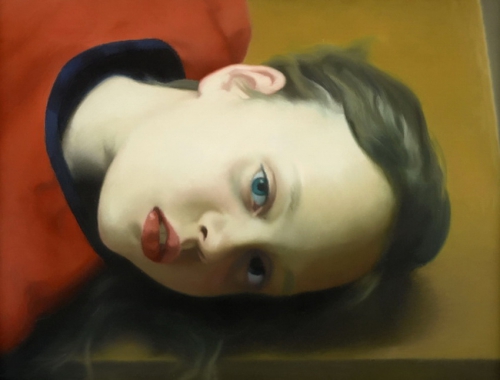 Doch Betty. 1977, oil on canvas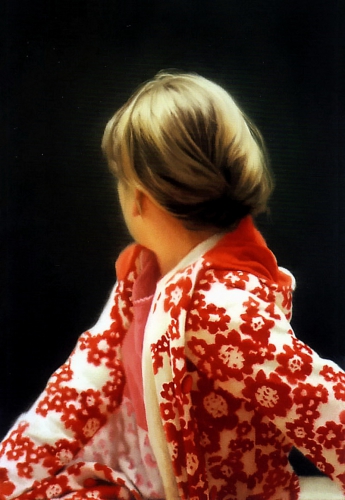 Doch Betty. 1988, oil on canvas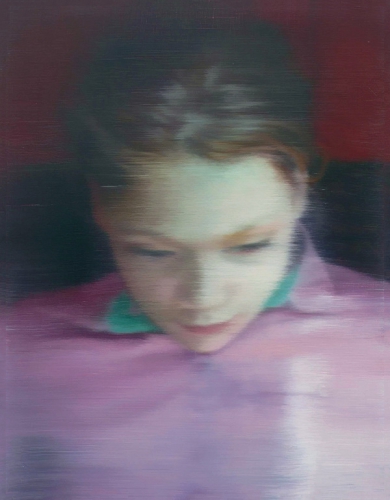 Daughter Ella. 2007, oil on canvas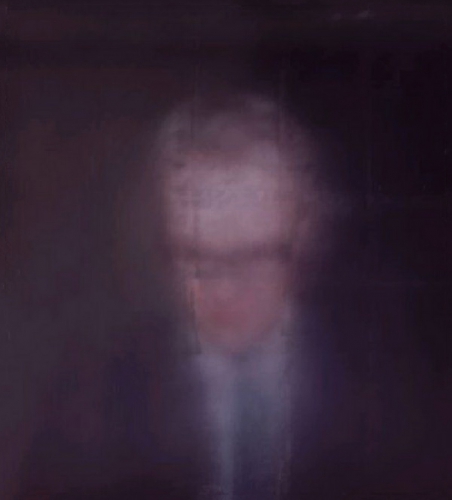 Self-portrait 1996, oil on canvas



"Mirror - this is the only picture that always looks different. Or maybe an indication that each image - mirror." - Gerhard Richter
17/04/2015
Receive messages on the diary post.



Explosion of paints in watercolors Pol Ledent. Belgian self-taught artist.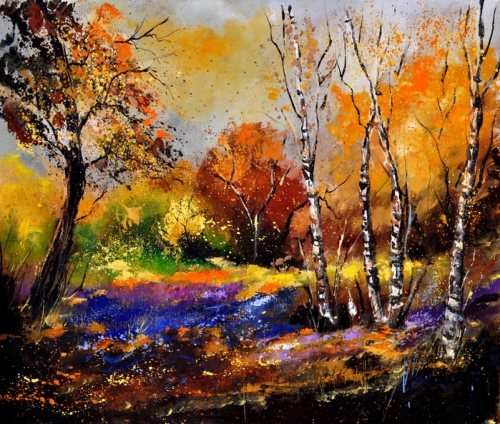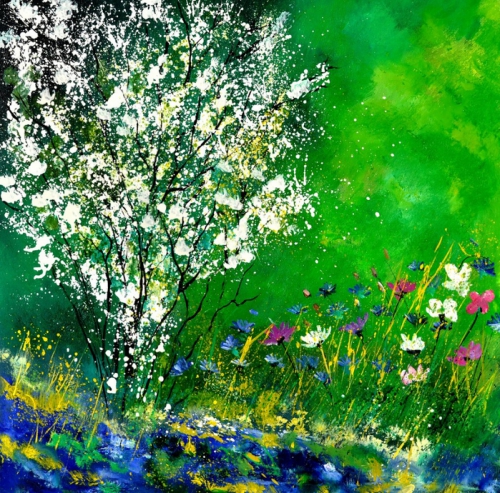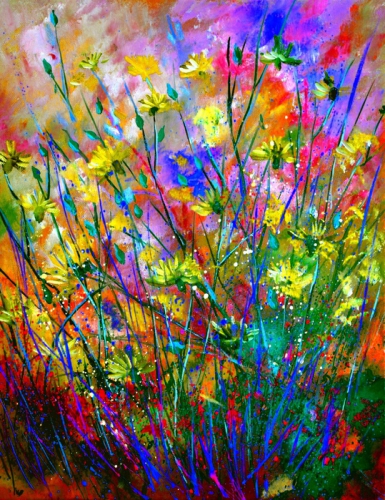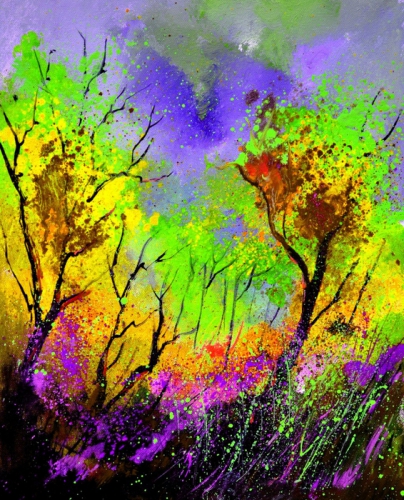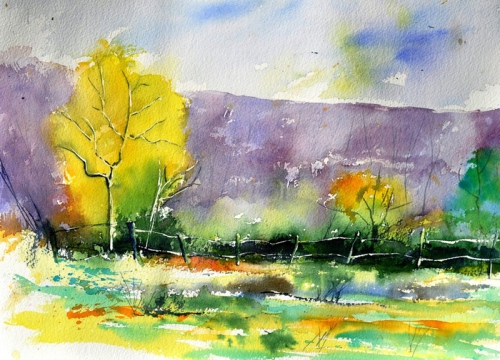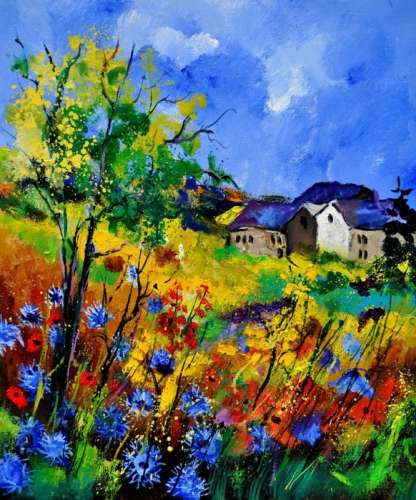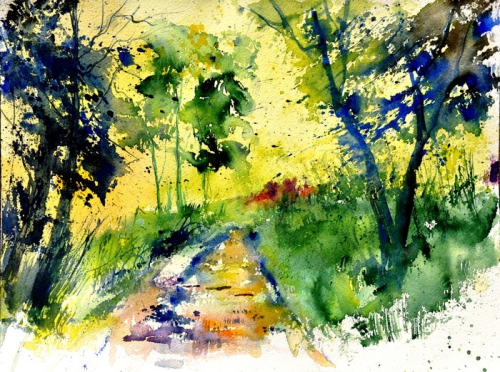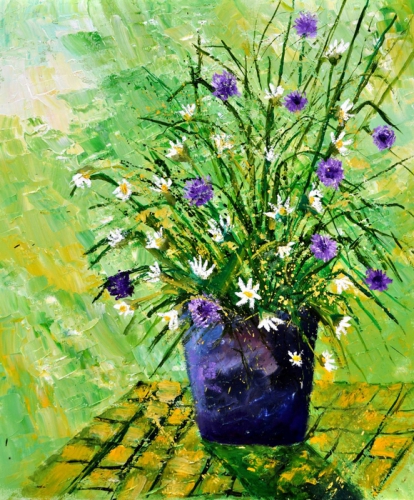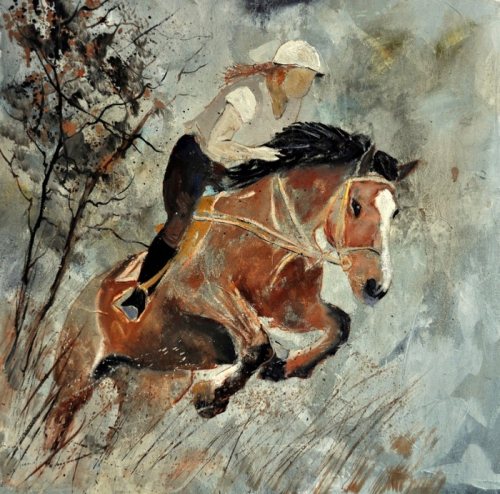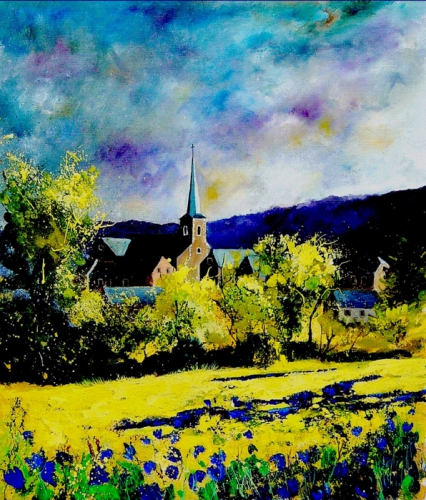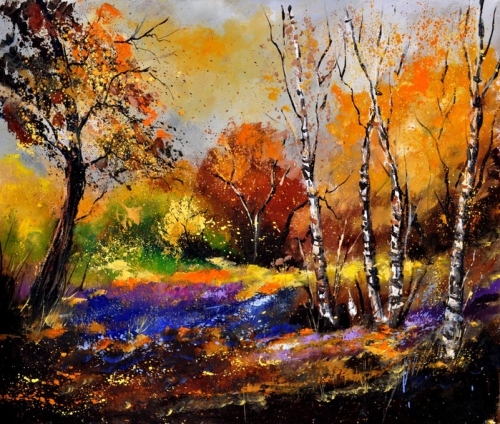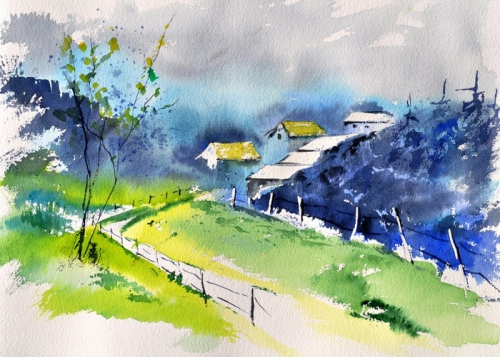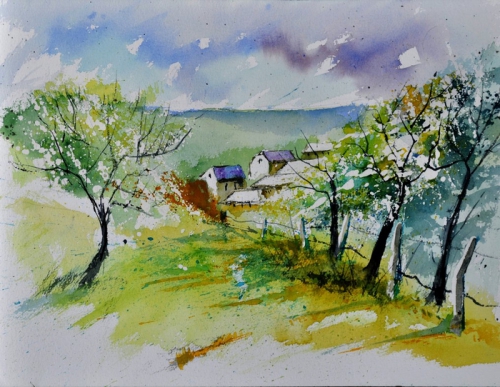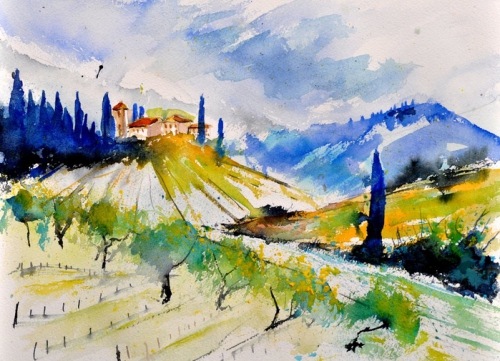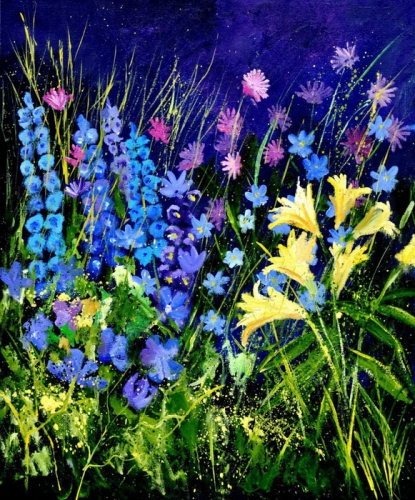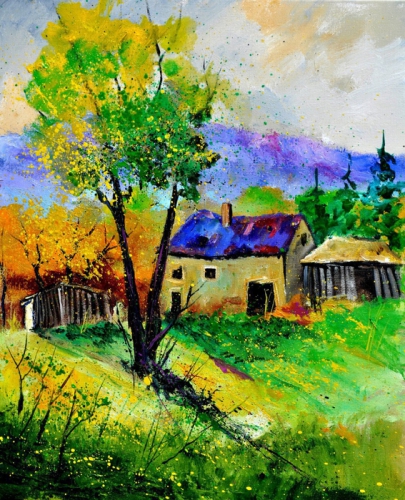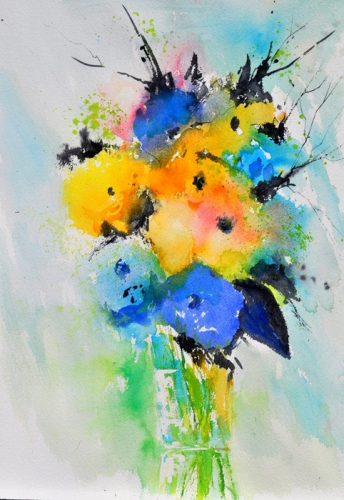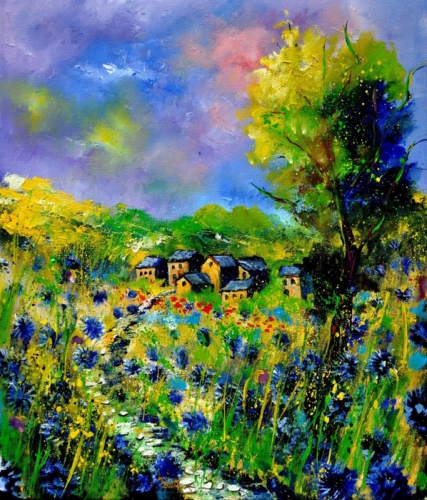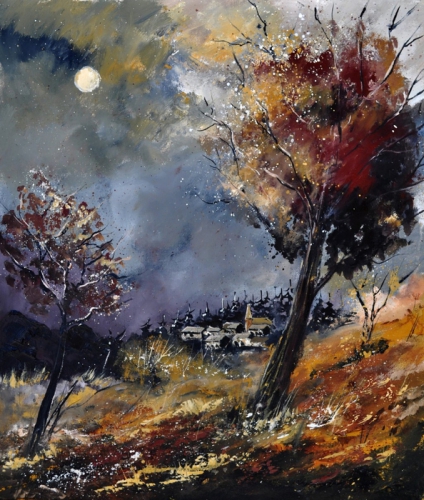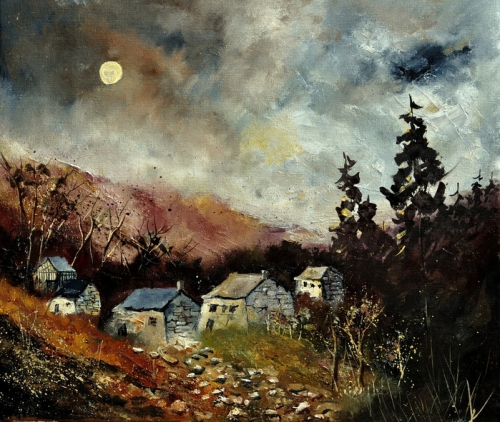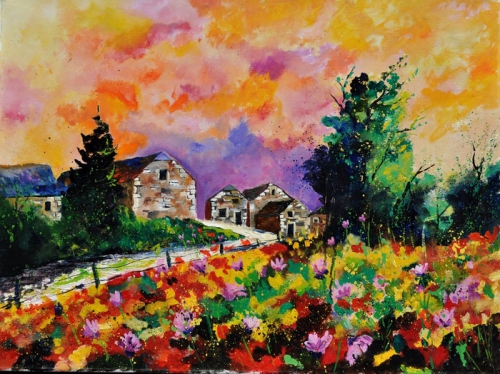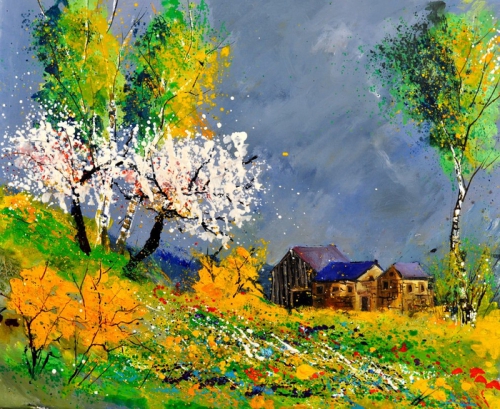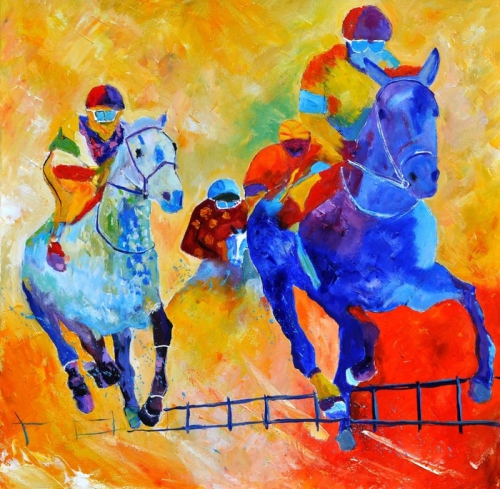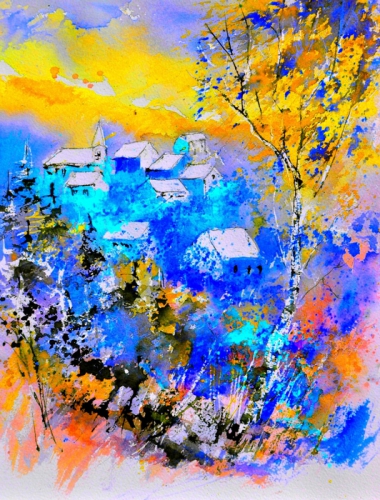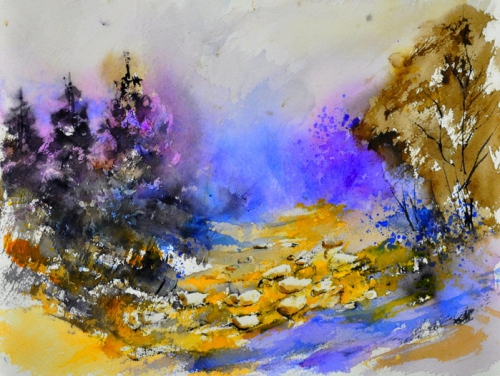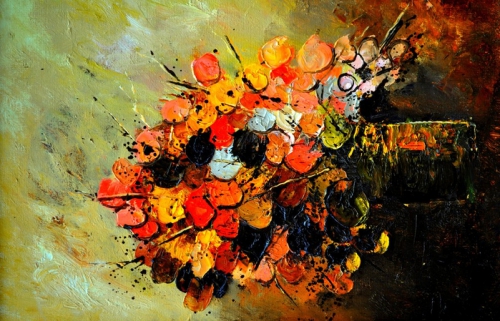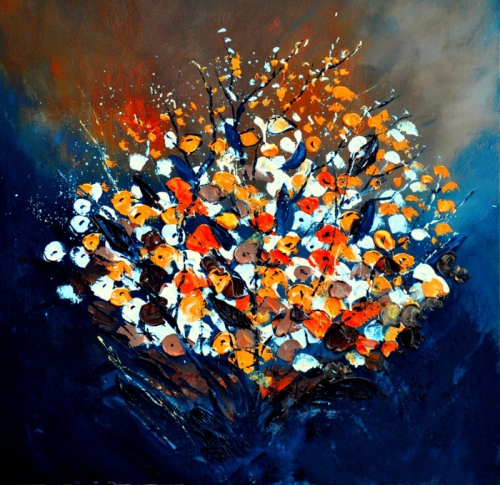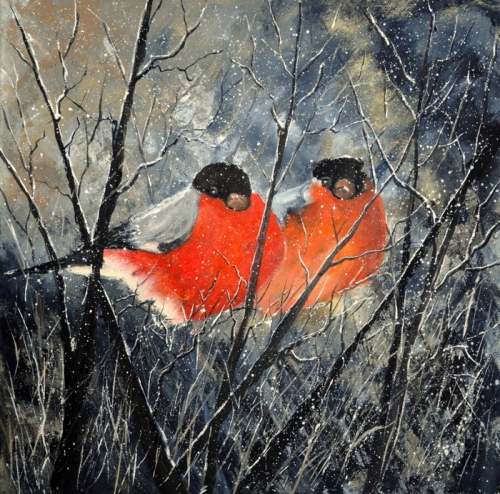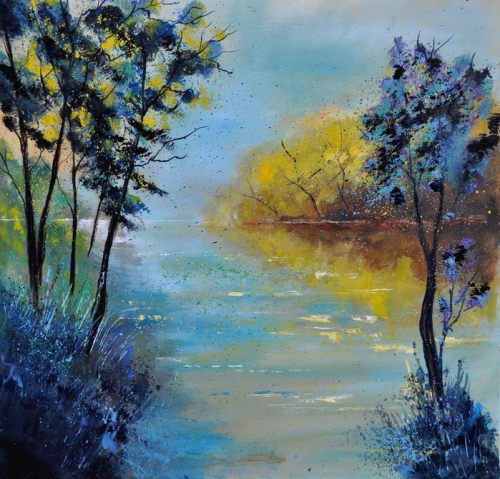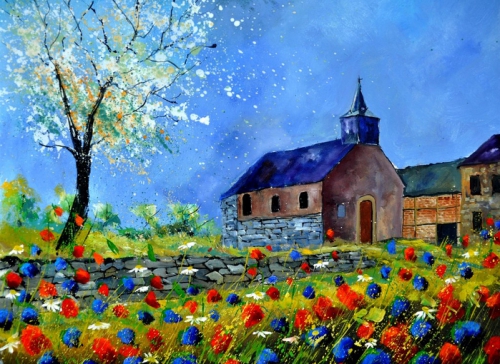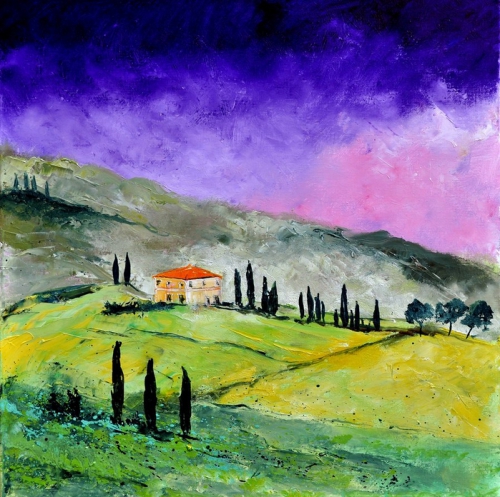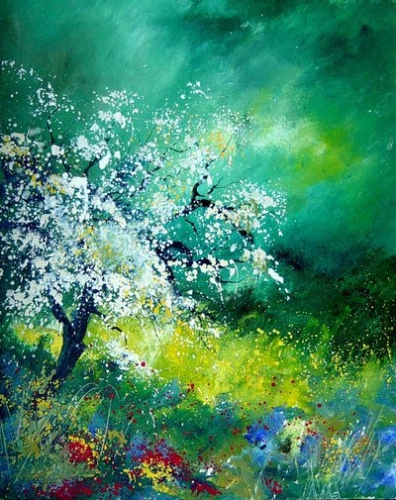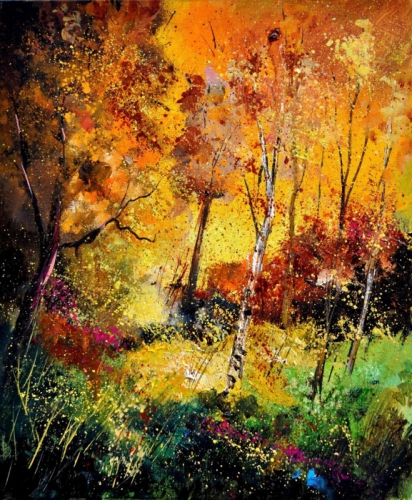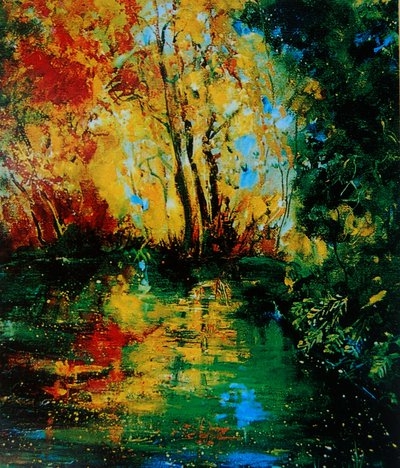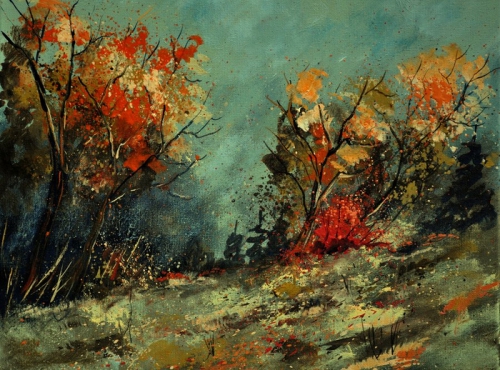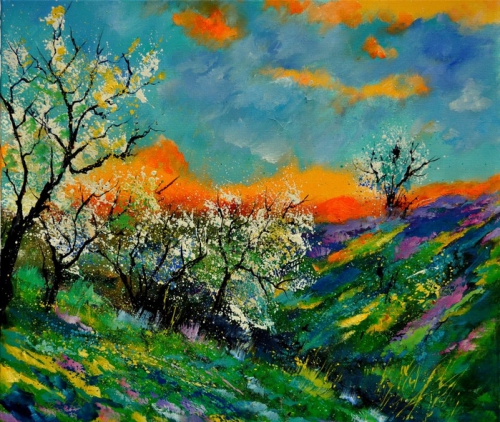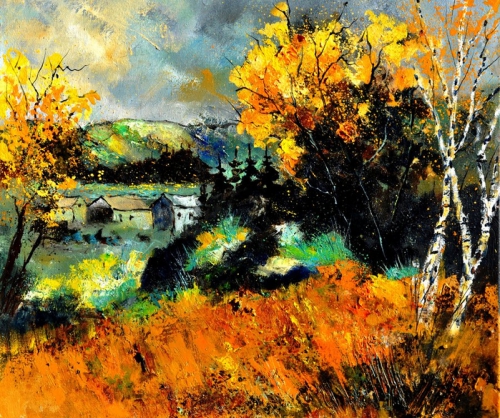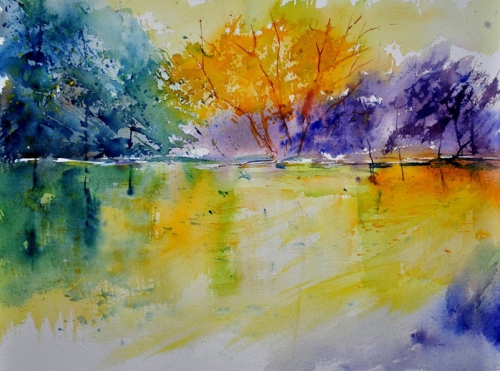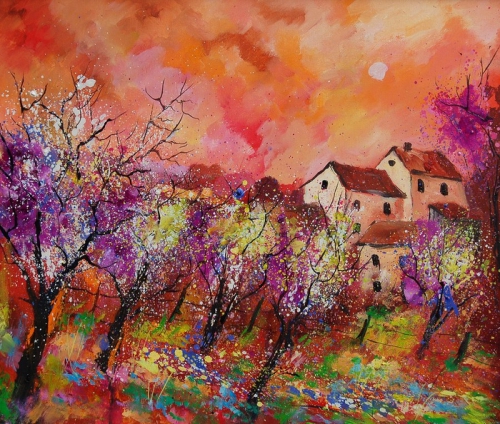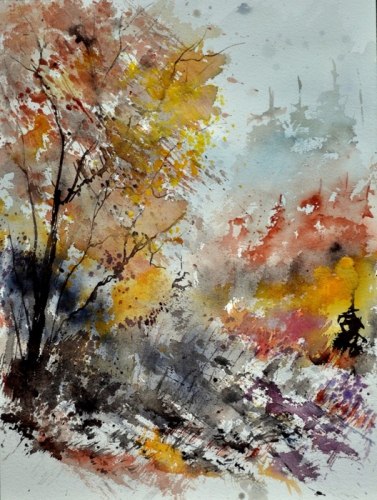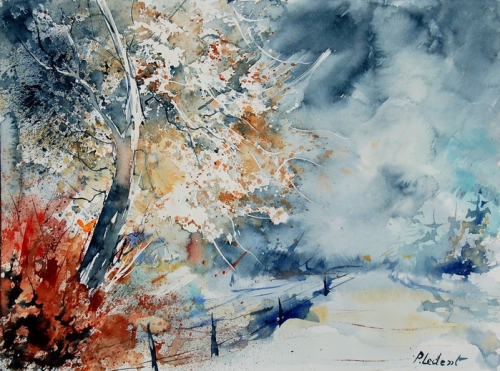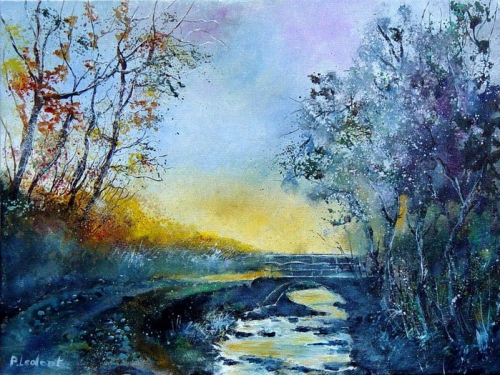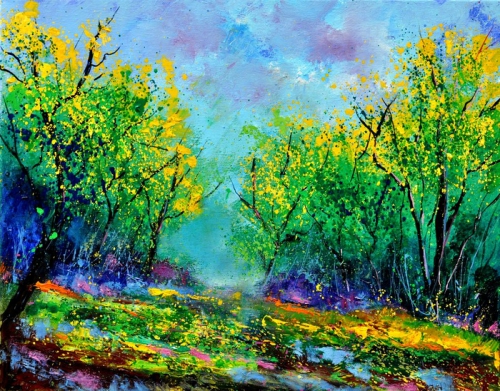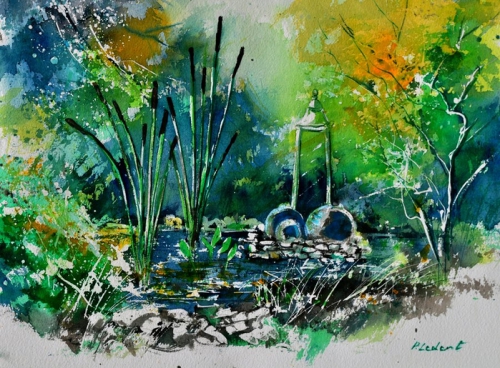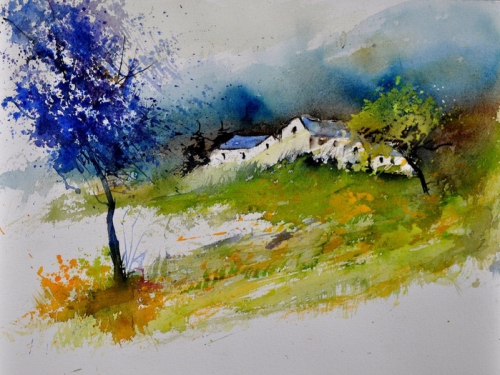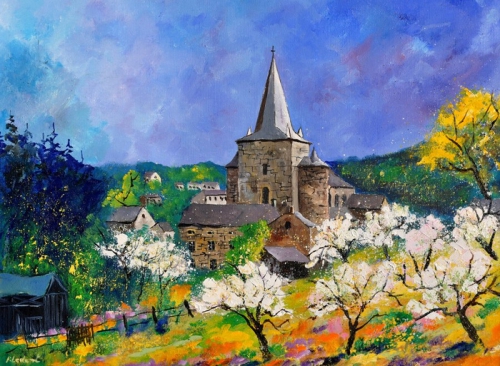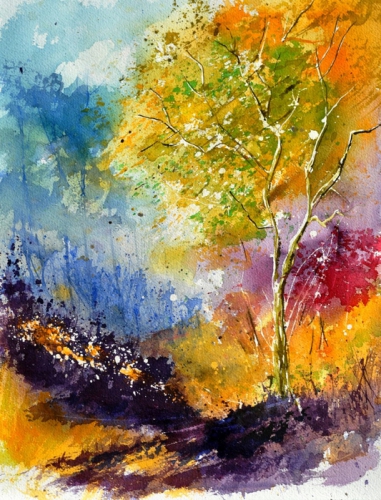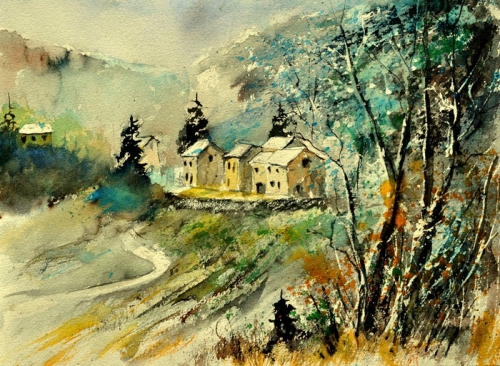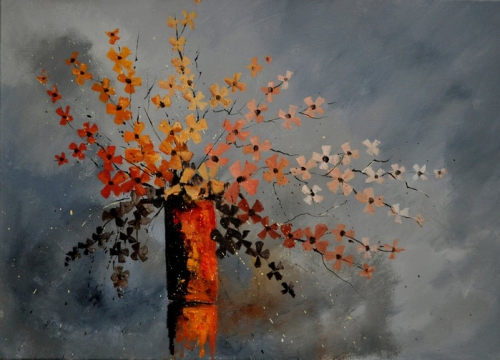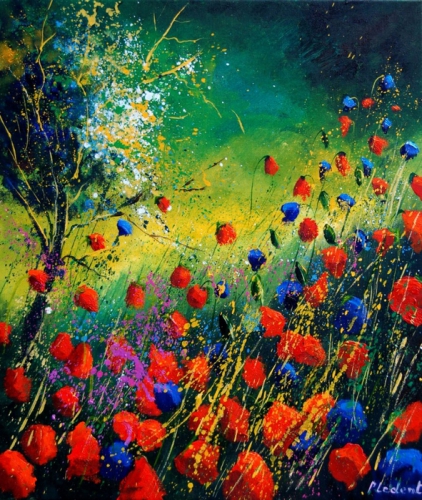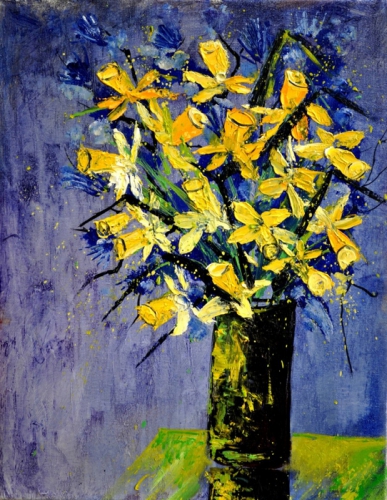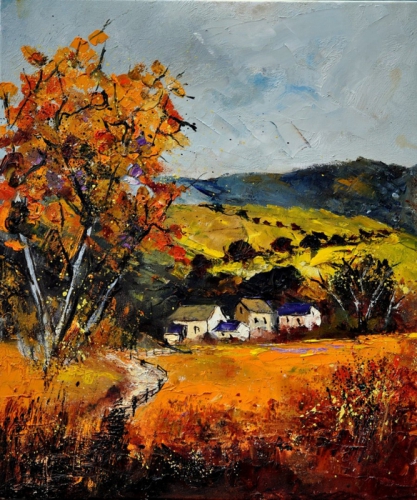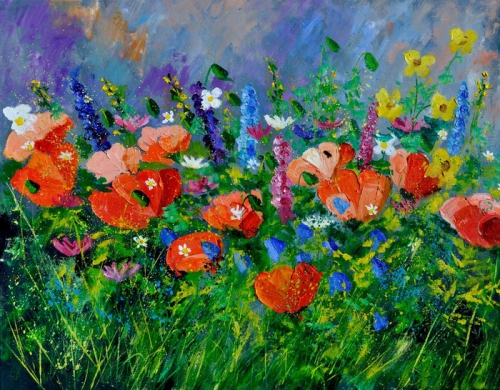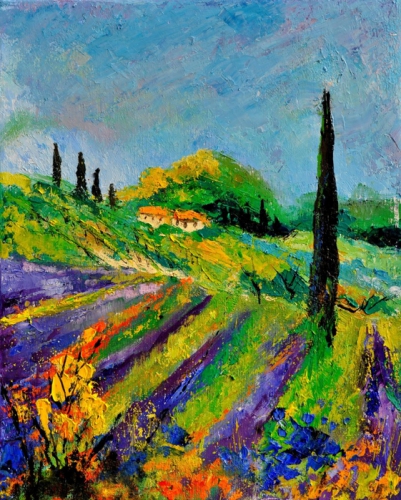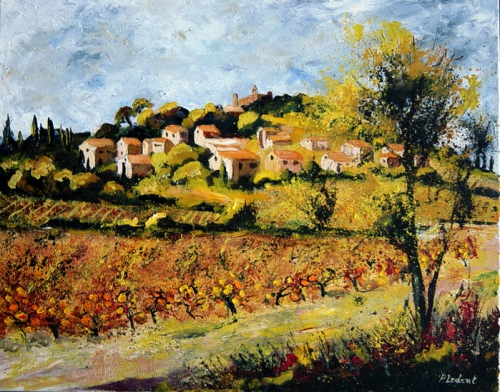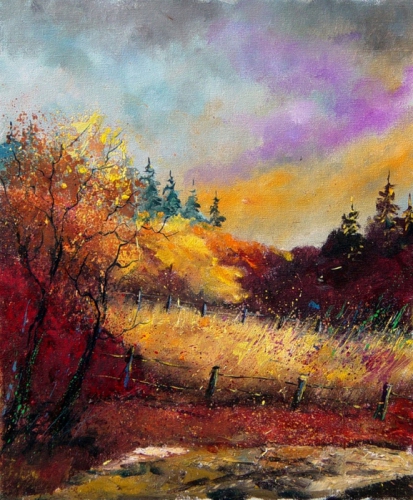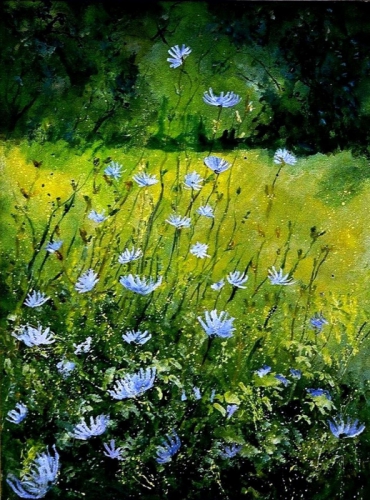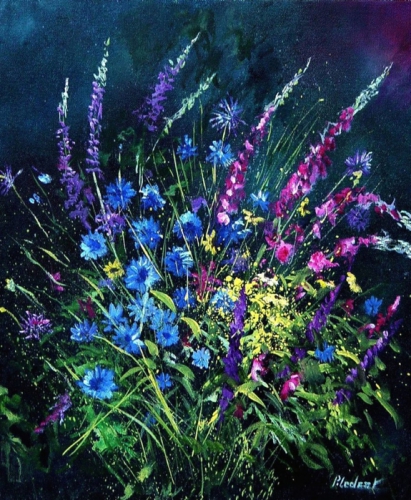 15/04/2015
Receive messages on the diary post.


Walking through the autumn with the artist Eugene J. Paproski (EJ Paprocki)

Eugene Poprotsky (EJ Paprocki) was born in 1971 in Chicago, Illinois, USA.
From his childhood began to study Business and Fine Arts at the University of Loyola in Chicago.
After graduating, Eugene continued formal art training, actively
traveling around Europe, visiting the famous museums and exhibitions. Artist - Impressionist
widely exhibited, his works have been approved art lovers. Now picture
the artist is stored in more than 1,000 museums, galleries and private collections in many countries
world: Canada, England, Japan, Ireland, France, Belgium, Germany, India, Switzerland, Greece.
Bold confident stroke, color, interesting and recognizable style of writing position him,
as a mature and a master painting.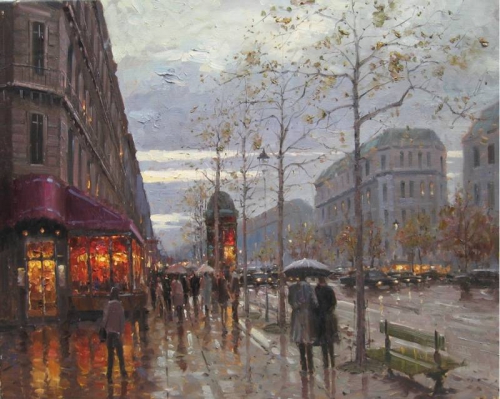 Boulevard St. Germain in Rain, Paris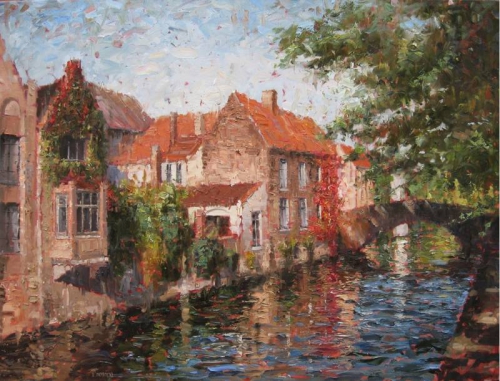 Red Ivy, Bruges



Cafe La Flore en l'Isle, Paris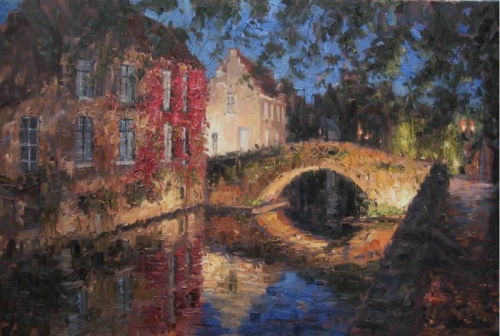 Bridge at Night, Bruges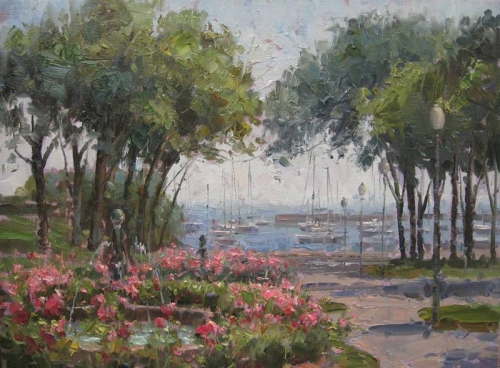 Rose Garden, Grant Park, Chicago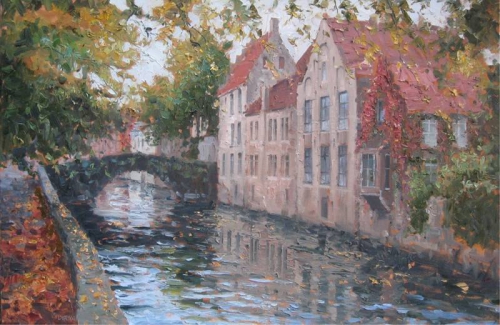 Autumn in Bruges II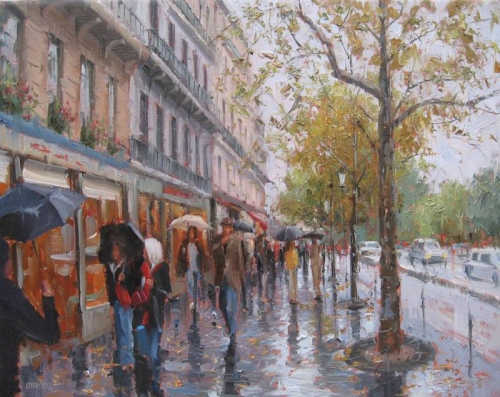 Boulevard St. Michel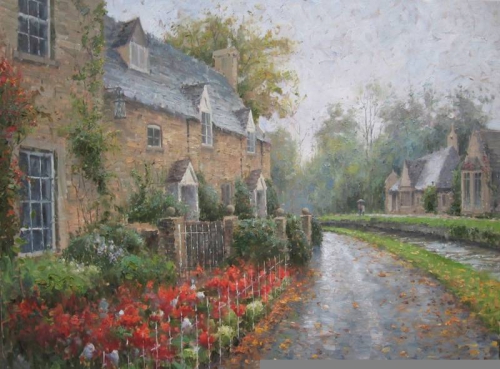 Lower Slaughter in Mist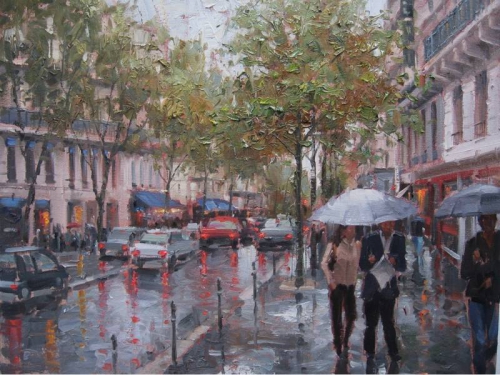 Rainy Day, Paris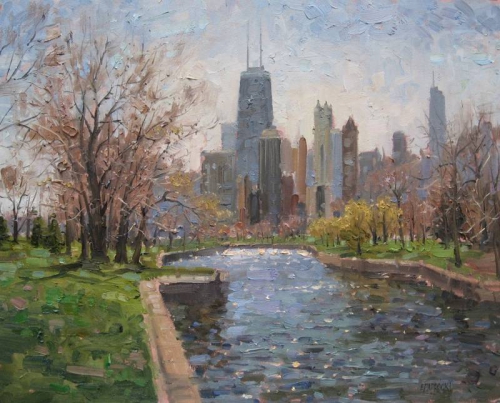 Lincoln Park in Spring, Chicago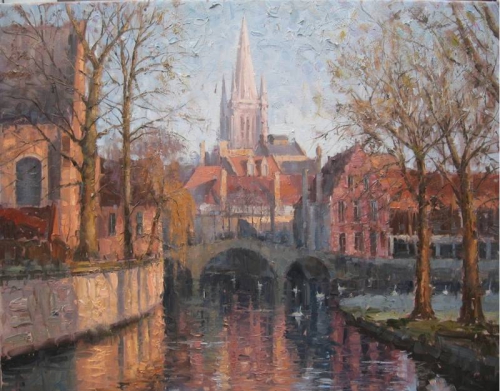 orning Light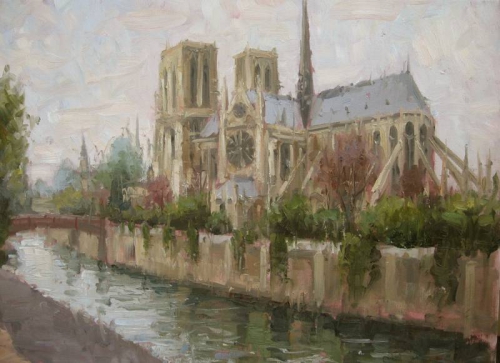 Notre-Dame de Paris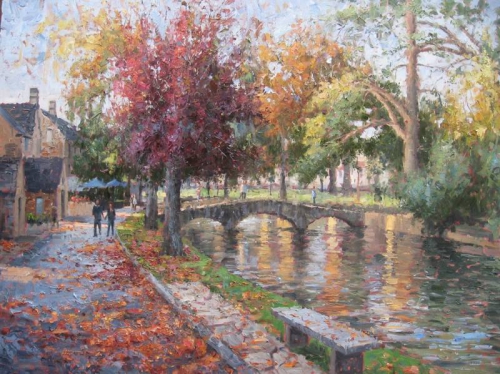 Bourton on the Water in Autumn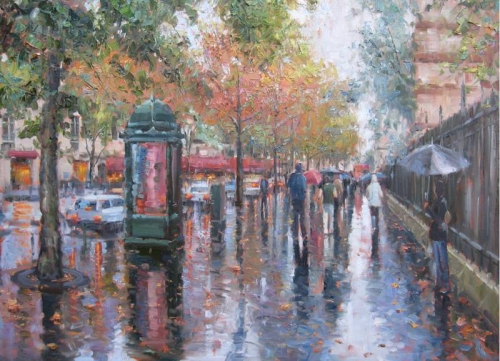 Rainy Day, St. Michel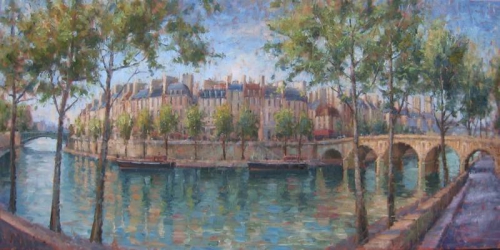 Ile Ste. Louis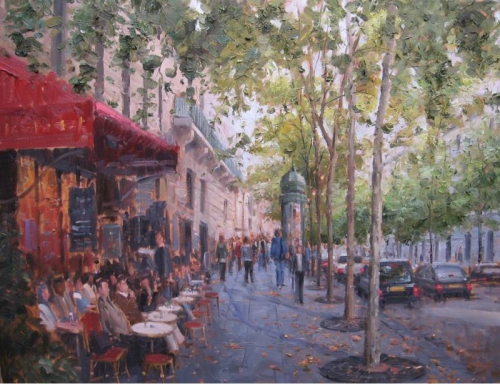 Paris Cafe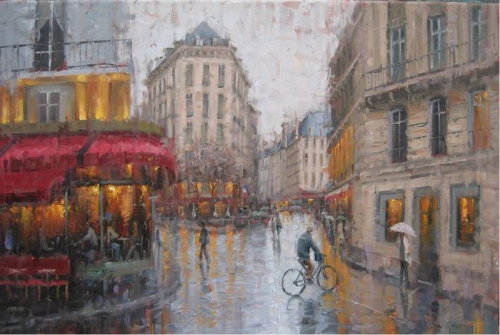 Paris Corner in Rain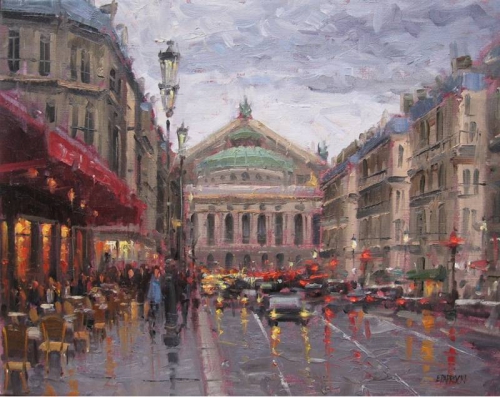 Place de l'Opera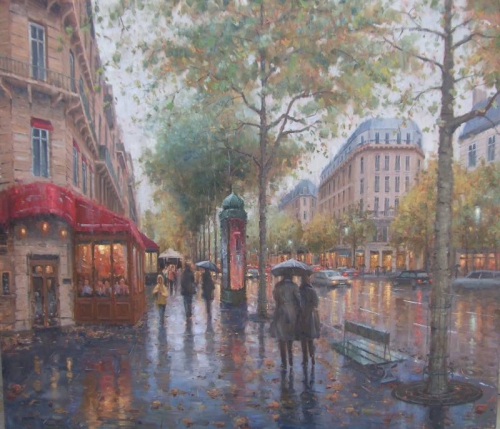 Boulevard St. Germain in Rain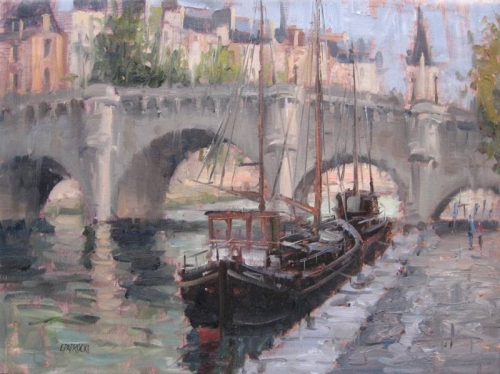 Le Pont Neuf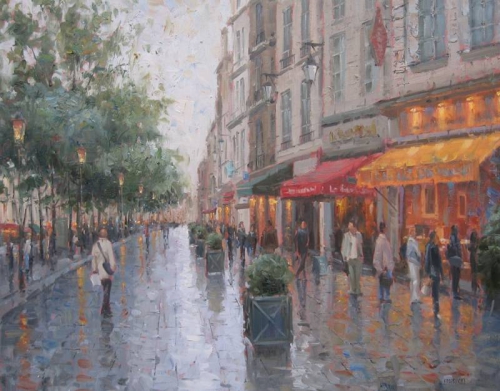 Waiting at the Boulangerie, St. Paul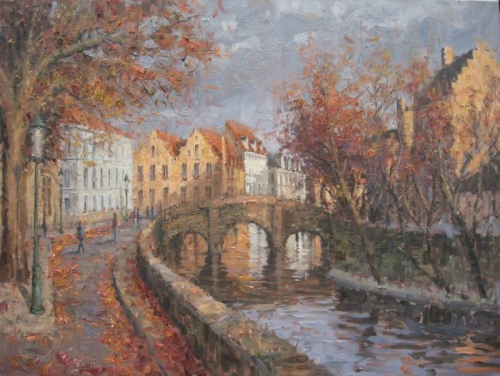 Autumn Sky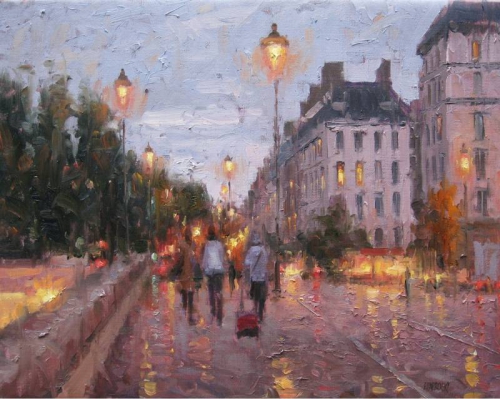 Le Pont Marie a l'heure de l'Aperitif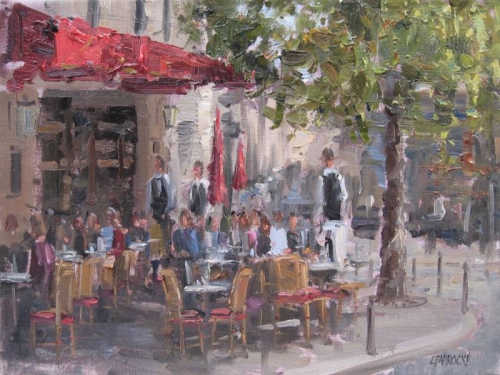 Brasserie Ile St. Loius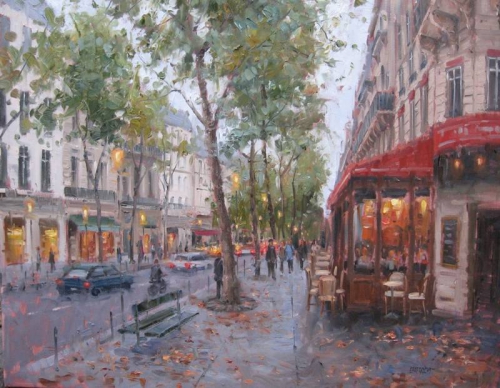 Paris Cafe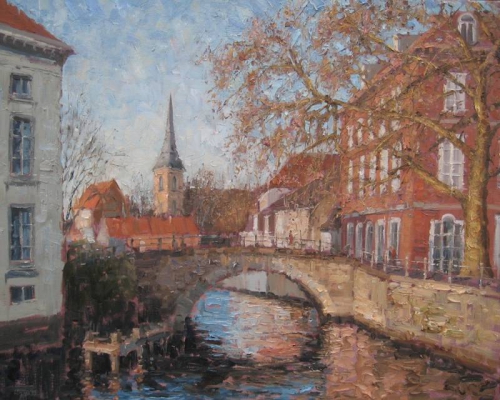 Bruges in Autumn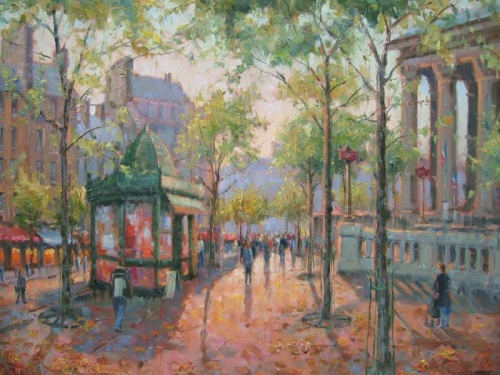 La Madeline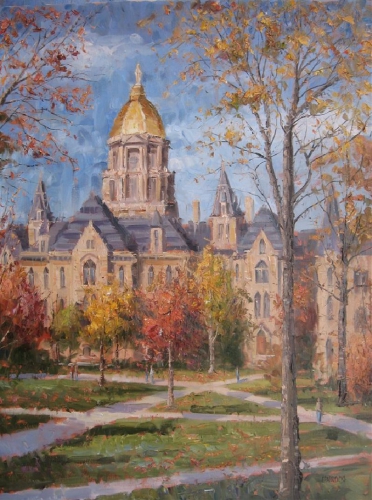 Notre Dame University in Autumn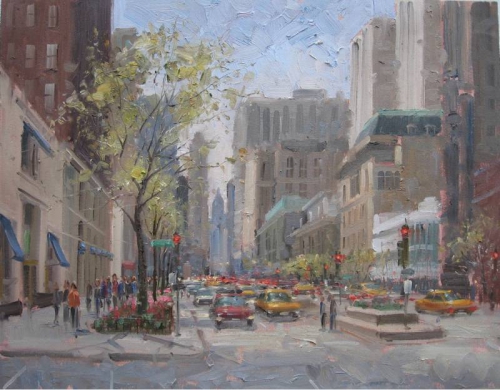 Michigan Avenue at Erie, Chicago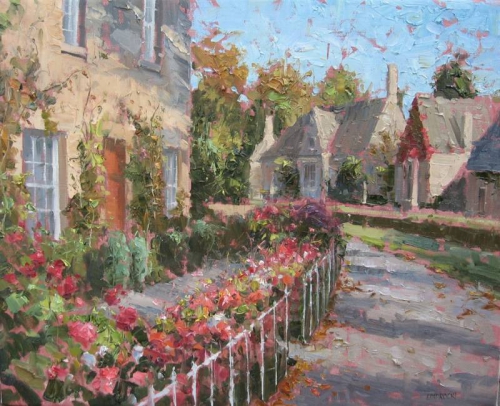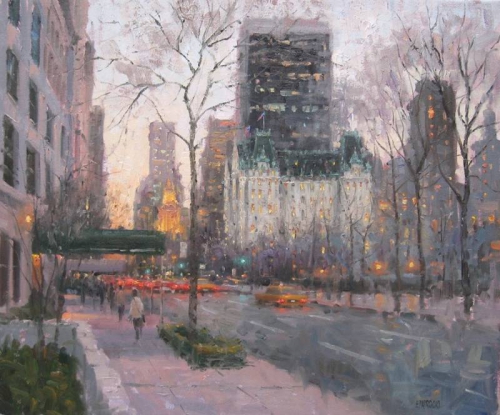 Lower Slaughter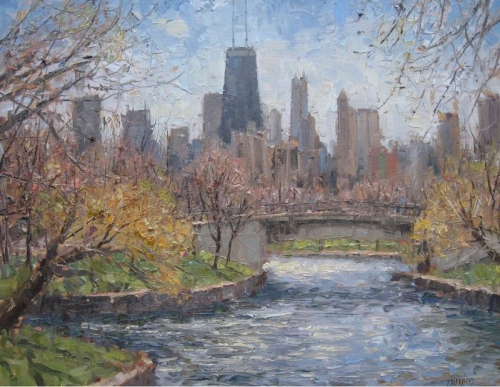 Lincoln Park in Spring, Chicago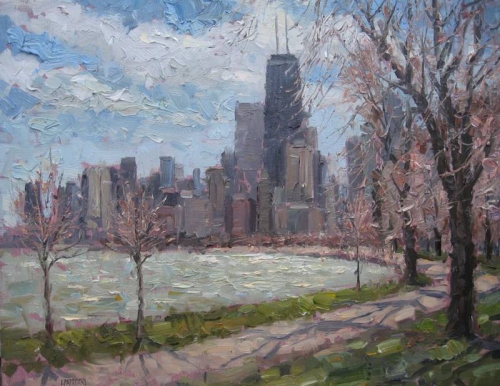 64th and 5th


Windy Day, Chicago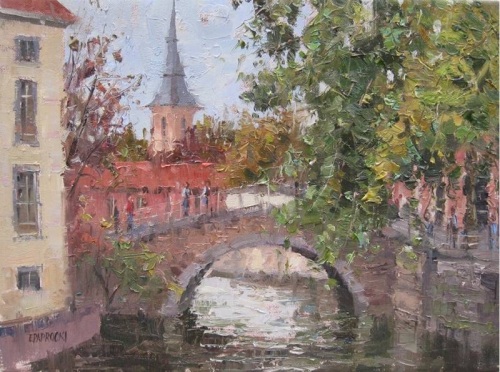 Bruges Canal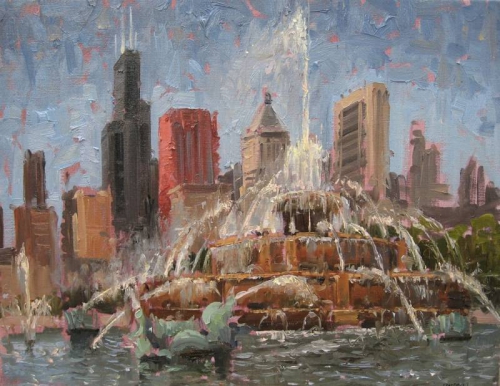 Buckingham Fountain, Chicago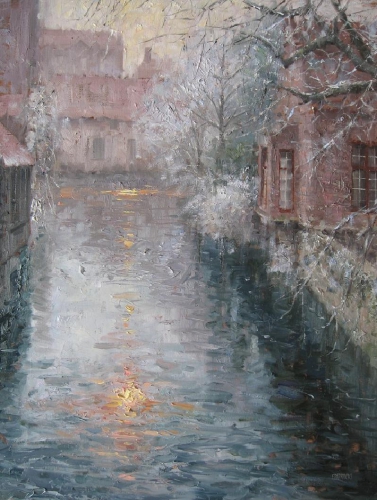 Winter Light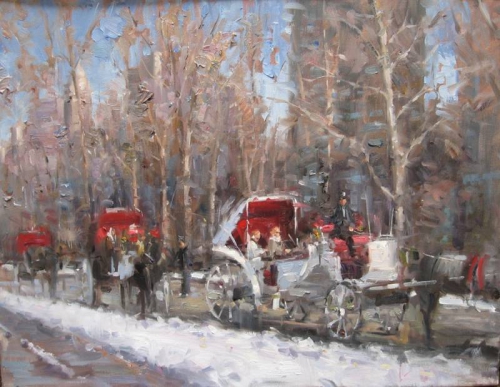 Central Park, New York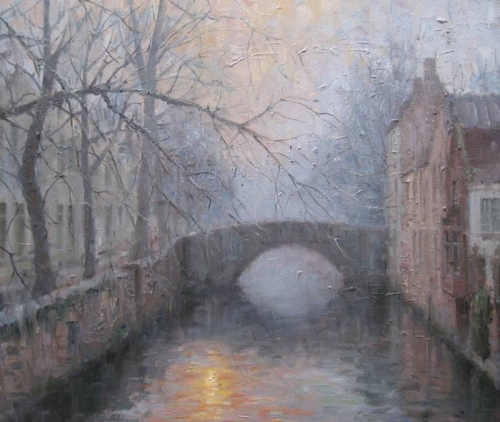 Foggy Canal, Brugge